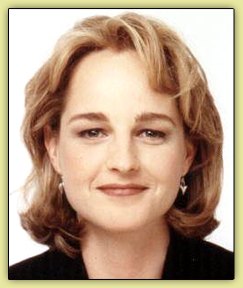 Helen Hunt (*30. 6. 1963), ─Źty┼Ön├ísobn├í dr┼żitelka ceny Emmy a dr┼żitelka ceny Akademie - Oscara. Prvn├ş velk├Ż filmov├Ż ├║sp─Ťch j├ş p┼Öinesla a┼ż role v kasovn├şm trh├íku Twistr, kde si zahr├íla b├Żvalou man┼żelku Billho Paxtona. Jej├ş dal┼í├ş film, "As Good As it Gets," ve kter├ęm si zahr├íla po boku Jacka Nicholsona a Grega Kinneara u┼ż j├ş vynesl zm├şn─Ťn├ęho Oscara.
Ve ┼íesti letech m─Ťla jasno o sv├ę budouc├ş kari├ę┼Öe a prvn├ş kr┼»─Źky v├Żstupu sm─Ťrem k vrcholu hereck├ęho um─Ťn├ş podnikla ve sv├Żch 9 letech. Hr├íla v mnoha televizn├şch seri├ílech: "Amy Prentiss", "Swiss Family Robinson" nebo "It Takses Two," ne┼ż ji zavolal komediant Paul Reiser: "Paul mi zavolal, jestli bych si nezahr├íla jeho ┼żenu v pilotu pro seri├íl, kter├Ż p┼Öipravuje, " ┼Ö├şk├í Helen. "┼Öekl mi, ┼że to bude n─Ťco o man┼żelstv├ş a j├í souhlasila."
Helen se narodila v Los Angeles, jako dcera Hunt Gordona Hunta, prominentn├şho hereck├ęho u─Źitele a re┼żis├ęra. Sv┼»j velk├Ż debut zvl├ídla v dev├şti letech v televizn├şm filmu "Pioneer Woman." Mezi dal┼í├ş velk├ę televizn├ş role pat┼Ö├ş: "Bill: On His Own," "Choices of the Heart," "Land of Little Rain" a "The Miracle of Kathy Miller."
Po doto─Źen├ş filmu "Project X," Helen zam├ş┼Öila do New Yorku aby z├şskala dal┼í├ş zku┼ínosti. V roce 1989 se j├ş splnil d├ívn├Ż sen, kdy┼ż z├şskla roli v Brodwaysk├ę inscenaci "Our Town." V dal┼í├şch rol├şch,mezi kter├ę pat┼Öila role Bianca v "The Taming of the Shrew" spolupracovala s Tracey Ullman, nebo s Morganem Freemanem jako producentem "Shakespeare in the Park" v roce 1990. Mezi mnoha televizn├şmi rolemi hr├íla ve filmech "Mr. Saturday Night," "Peggy Sue Got Married" a"Miles from Home." Kritiku zklidil jej├ş v├Żkon v "The Waterdance." S Davidem Carusem si zahr├íla alkoholi─Źku ve filmu "Kiss of Death."
Mezi jej├ş nejnovej┼í├ş po─Źiny pat┼Ö├ş "Pay It Forward," kde sv├ę rodinn├ę probl├ęmy zp┼»sobovan├ę brut├íln├şm man┼żelem zkou┼íela ut├íp─Ťt v alkoholu a na b┼Öeh ji musel tahat mal├Ż synek Haley Joel Osment spolu se sympatick├Żm u─Źitelem Kevinem Spaceym. V Zemekisov─Ť "Cast Away," si zahr├íla lehce frustrovanou Kelly Frearsovou, jej├ş┼ż p┼Ö├ştel, kter├ęho hraje Tom Hanks, ji neust├íle opou┼ít├ş kv┼»li pracovn├şm povinnostem. S Melem Gibsonem si zahr├íla v komedii "What Women Want". Ned├ívno se uk├ízala ve filmu Woodyho Allena "Curse of the Jade Scorpion" a ve filmu "Timepeace."
V roce 1999 si Helen vzala Hanka Azariu (mluv├ş velkou ─Ź├íst Simpsonov├Żch, v seri├ílu si zahr├íl postavu Nata.) Jejich vztah, v┼íak dlouho nevydr┼żel a v prosinci 2000 se rozvedli. R├ída maluje a v─Ťnuje se tak├ę j├│ze.
V├Żborn├ę ─Źesk├ę str├ínky o Helen Hunt najdete na adrese http://helenhunt.baf.cz/.