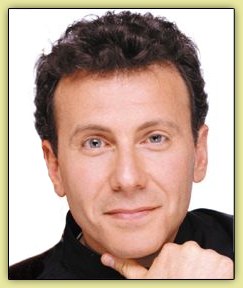 Paul Reiser (*30. 5. 1957), od roku 1994 do roku 1995 p─Ťtkr├ít nominovan├Ż na cenu Emmy, kterou v┼íak nikdy nez├şskal, se s├ím sebe n─Ťkolikr├ít ptal, jakto┼że je humor, kter├Ż spolu s Jamie a druh├Żm autorem seri├ílu, Danny Jacobsonem vkl├íd├í, tak srozumiteln├Ż ┼íirok├ęmu spektru div├ík┼».
Paul┼»v kamar├íd a spoluautor Danny Jacobson. "Svatba je nejv─Ťt┼í├şm prub├ş┼Ösk├Żm kamenem intimnosti," ┼Ö├şk├í Paul. "Je to jako tanec, kter├Ż neust├íle od z├íkladu m─Ťn├ş pravidla, pln├Ż nikdy nekon─Ź├şc├şch p┼Ö├şhod a zkou┼íek. Sna┼ż├şme se to d─Ťlat opravdov─Ť, nic nep┼Öedst├şrat. Tak, abys si div├ík u ka┼żd├ęho d├şlu ┼Öekl: 'Bo┼że, to je p┼Öesn─Ť jako u m─Ť.' "
Rozen├Ż New Yor─Źan, Reiser vyrostl na komedi├şch Greenwich Village. Jeho prvn├ş v├Żtvory vznikali na st├ítn├ş univerzit─Ť v New Yorku, kde z├şskal bakal├í┼Ösk├Ż titul v oboru hudba. Pozd─Ťji sv├ę hudebn├ş nad├ín├ş vyu┼żil u skl├íd├ín├ş ust┼Öedn├ş skladby seri├ílu Final Frontier, kterou stvo┼Öil spolu s Donem Wasem. Za─Ź├şnal p┼Ö├şle┼żitostn─Ť vystupovat po klubech a barech. Postupem ─Źasu se z n─Ťho stal vyhled├ívan├Ż komik a improviz├ítor.
Svou prvn├ş roli si Paul zahr├íl v klasick├ęm filmu Barryho Levinsona "Diner." Nedlouho pot├ę si zahr├íl men┼í├ş postavu v "Beverly Hills Cop." Podraz├íka si zahr├íl ve filmu "Aliens."Mezi jeho dal┼í├ş filmov├ę kousky pat┼Ö├ş: "Beverly Hills Cop II," "The Marrying Man," "Crazy People," "Family Prayers", "Bye Bye Love" a "Story of Us" nebo jeho zat├şm posledn├ş roel Carla v "One Night at McCool's".
V letech 1987 a┼ż 1990 vystupoval v komedii NBC "My Two Dads." Napsal, produkoval a zahr├íl si ve sv├ę vlastn├ş komedii pro HBO, "Paul Reiser: Out on a Whim." Pro spole─Źnost Showtime hr├íl v "3 1/2 Blocks from Home." Jako producent seri├ílu vyhr├íl v roce 1995 Zlat├Ż globus . Za sv┼»j hereck├Ż v├Żkon vyhr├íl v roce 1994 Cenu div├ík┼». Ani jedna z jeho 5 nominac├ş na Emmy v┼íak nevy┼íla.
V roce 1994, vydal Reiser svou prvn├ş knihu "Couplehood," kter├í se sv├Żmi dv─Ťma miliony prodan├Żch v├Żtisk┼» vy┼íplhala na prvn├ş m├şsto mezi nejprod├ívan─Ťj┼í├ş kn├ş┼żky t├Żdne v New York Times. Jeho druh├í kniha, kter├í vy┼íla v roce 2000, se jmenuje "Babyhood."

Paul je 17 let ┼żenat├Ż a ┼żije s man┼żelkou a synem v Los Angeles.